Excerpts from SRSG Bernardino Leon Press Conference in Skhirat, Morocco, Sunday 22 March 2015
It's not a secret that we need to expedite these talks. You can imagine that the international community and the United Nations are really very concerned about these attacks and this military escalation.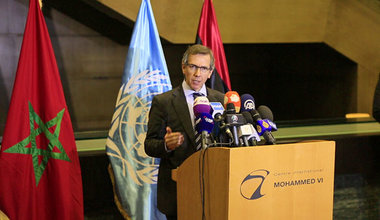 The United Nations is insisting in expediting the talks. We will try to add to the two elements we have on the table at the moment, the set of documents and the discussion later on the names of the people who will be part of the unity government. The United Nations will try to add some principles, a set of principles that can be the basis of discussion for a final and global solution.
So our intention is to do everything possible to counteract this military escalation and to expedite the talks so we can achieve results soon.
Question: Confirming talks going on today tomorrow…?
For the moment, no one is leaving. We have had a difficult moment. I'm sure you are all aware. And after these attacks there was a possibility either to cancel the dialogue or to lose some of the delegations, which would have had a similar impact. Delegations are staying. No one is leaving. Some of them are in consultations on how to go on in this work. But my assessment at this point is positive, is that the mood is constructive and everybody agreed that at the end of the day even with this military escalation it is more important what we are trying to doing here, and it's more important to stay here. So I can confirm is that everybody is onboard, everybody is here and hopefully these consultations by tomorrow will produce positive results and all delegations will resume their work.
…
I'm going to Brussels tomorrow for the opening of the meeting of municipalities on confidence-building measures. I will be tomorrow morning in Brussels. If I do more contacts it will be just for a few hours but I'm planning to be back here tomorrow evening
Libya is not divided into two camps. Libya is fragmented. And both sides have different actors, different militias, sure you are aware of this situation. And not everybody in Libya is supporting the dialogue. There are people in both in these fragmented two camps. There is people who are supporting the dialogue very strongly. People who are aware that the only solution is dialogue and people who are not.
This process has never intended to be where 100 percent of people in both camps are supporting this. It is intended to isolate a minority of them, who are against the dialogue, against a political solution to bring together the majority of both camps to start work on those spoilers those who are in favor of military solution.
This is the intention. Probably you have heard me many times saying this. We know that this will be a step, an important step towards a solution, but we still have a lot of to do, a long way to bring everybody on board to reduce violence. What we are seeing today does not reflect what the majority of people in the different constituencies in Libya, starting with the ones in Tobruk and Tripoli but also and others, the ones from Misrata who are represented here these majorities.
These people are here because they have a strong support back home, but not everybody's support back home. This unanimity if one day we can achieve, it will take time, it will take a lot of work and hopefully one day will arrive but not immediately.
We will continue our meetings and we will be organizing more contacts with you later today and tomorrow.