Martin Kobler calls for a greater participation of Libyan women in all spheres of Libyan society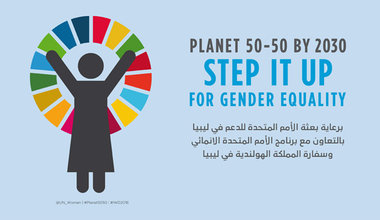 08 March 2016, Tunis – Three weeks ago, on 17 February, Libya marked the fifth anniversary of the 2011 revolution, "a revolution that would not have been possible without the courageous Libyan women who actively and heroically fought for their freedom and the freedom of the all Libyans" highlighted the Special Representative of the Secretary-General and Head of the United Nations Support Mission in Libya (UNSMIL). During the revolution and in the years after, Libyan women remained engaged to reconcile communities and deliver humanitarian assistance to those in need.
Today, women hold only 32 out of the 200 seats of the Libyan House of Representatives. In the proposed Government of National Accord, only 1 out of the 13 ministers is a woman, 2 out of the 5 state-ministers are women. The SRSG has always advocated for a 30 percent quota of women in the parliament as well as in the government.
"The low numbers of women holding formal positions in local and national politics does not reflect their pivotal role in the society. It is impossible to build a fair state if we deprive half of the society of their rightful place", declared Martin Kobler. "As I have done until now, I will spare no effort to push for increased political participation and representation of women at all levels," he added.

The full remarks of the Special Representative of the Secretary-General in Libya, Martin Kobler, on the International Women Day attached here

Statement of Martin Kobler, Special Representative of the Secretary-General and Head of the United Nations Support Mission in Libya (UNSMIL)


2016-03-05 SRSG speech on the IWD 8th March 2016V2.pdf