The International Day of Mine Awareness and Assistance in Mine Action – 04 April 2015
Janzour, Tripoli, Libya - On Saturday, 04 April 2015, the Libyan Mine Action Centre (LibMAC) organized an event to mark the International Day of Mine Awareness and Assistance in Mine Action in Janzour, Tripoli - Libya.
The LibMAC has organized this event under exceptional circumstances with limited resources and remote support from the International community and the Arms and Ammunition Advisory Section (AAAS) of the United Nations Support Mission in Libya (UNSMIL) and the United Nations Mine Actions Service (UNMAS) due to the prevailing security conditions in the country.
The event focused on raising the awareness of children on the dangers posed by mines and Explosive Remnants of War (ERW), taking into account the ongoing armed conflict since July 2014 which has claimed many lives and put innocent civilians in danger. Libyan Boy Scouts marched through the streets of Janzour, carrying banners and waving Libyan flags before joining the gathering that was planned to mark the day.
Speaking at the event, LibMAC Director Colonel Mohamed Turjman said:
"On a day like today, the world commemorates the 10th anniversary of International Mine Awareness and Assistance in Mine Action Day ... For Libya, today is its 4th commemoration since the Liberation war, and this year the commemoration is taking place in the area of Janzour which has been most affected by the current ongoing armed conflict."
He added: "Despite the difficult times Libya is still going through it has set forward this event as a signal to the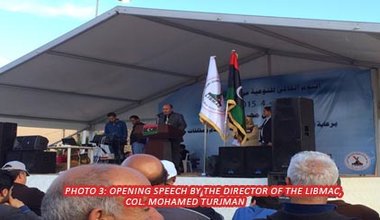 International community of the LibMAC's respect to the International agreements, treaties and conventions believing in its moral and humanitarian responsibility towards its citizens in ridding areas most affected from mines and ERWs
.
The LibMAC also continues to coordinate with the United Nations Support Mission in Libya (UNSMIL) to anchor awareness and operate in accordance to International Mine Action Standards (IMAS)".
The Mayor of Janzour, Mr. Balid Touba, also addressed the audience on this day. The speeches were followed by a theatre play and an exhibition, which aims to raise children's awareness on how to recognize Mines and ERW, and to stay away from these items to avoid death and injury.
The event was concluded by a live exhibit on the meticulous efforts entailed in marking; detecting and removing a mine.